Helping to reduce the impact of bacterial hospital-acquired infections
Particular attention to the majority of Gram-negative bacteria
Hospital-acquired infections are a very serious health problem worldwide.
"These are most commonly caused by Gram-negative bacteria, which have the characteristic double membrane covering a bacterial cell. This outer membrane prevents antibiotics from penetrating the cell and is therefore ineffective against them.
The outer membrane of gram-negative bacteria contains a lipopolysaccharide molecule that, when released into the bloodstream, can trigger a series of negative events, including high fever and a drop in blood pressure, called septic shock. Hence, lipopolysaccharide is often referred to as an endotoxin."
What can we do about hospital-acquired infections?
General advice:
Tell your doctor if you have an active infection.
Pay extra attention to hygiene!
Alert nurses immediately if the area around the infusion cannula becomes red, swollen or painful.
Warn nurses immediately if your wound dressing is not clean or stuck to the wound.
Tell your doctor if you have diarrhoea or urinary symptoms.
Receive only completely healthy visitors.
If you cough or sneeze, cover your mouth and wash your hands.
Ask nurses to wash their hands before each test. Source: ncbi.nlm.nih.gov - Prevention of hospital acquired infections
In addition to the above, taking herbs and natural bile acids in the form of capsules as a dietary supplement can also help to prevent and reduce the effects of hospital-acquired infections!
The active ingredients of AntiBac and their sevenfold action to protect the body:
Bile acids (bile acids)
Garlic
one AntiBac capsule contains the active ingredients of several cloves of garlic!
The effect against pulmonary infections has been demonstrated in a modern clinical trial.B16 One study found that long-term garlic taken as a preventative measure significantly reduced the risk of developing respiratory infections.
In addition, the garlic inhibits the growth of many respiratory pathogens (bacteria, viruses)B16.
against respiratory tract infections has been demonstrated in a modern clinical trial.B16 One study found that long-term preventive medication garlic significantly reduced the risk of respiratory infections.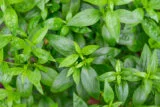 King of bitter
its leaves and roots were used to make medicine in India and China even before the invention of antibiotics
Turmeric (Curcuma longa)
The benefits of turmeric have been recognised by the pharmaceutical and health industries
The Curcumin has a proven immunostimulant effect: during the immune response increased antibody production and white blood cell count.E2 But the effect on the immune system is more complex. In the case of an experimentally induced airway obstruction provoked by an allergen, it is also mitigated it.E6
White horehound (Marrubium vulgare)
White horehound is such a popular herb that it is even used to make sweets!
AntiBac is a new dietary supplement on the market and the National Research and Development Office supports its invention application!
AntiBac has been developed based on hundreds of international research papers, studies and research, and its ingredients have been selected to meet the current challenges and help the body's defences!
For the additional treatment of current infections, we have optimised the 30 capsule pack, of which, depending on the severity of the symptoms, 4 capsules per day are recommended for 2-3 days in the initial stage, and then 3 capsules per day until symptoms are significantly relieved!
Click on the icon to print the page:
AntiBac capsules are available in ALL Hunagarian pharmacies or can be ordered!